Posted on
By Track N Trail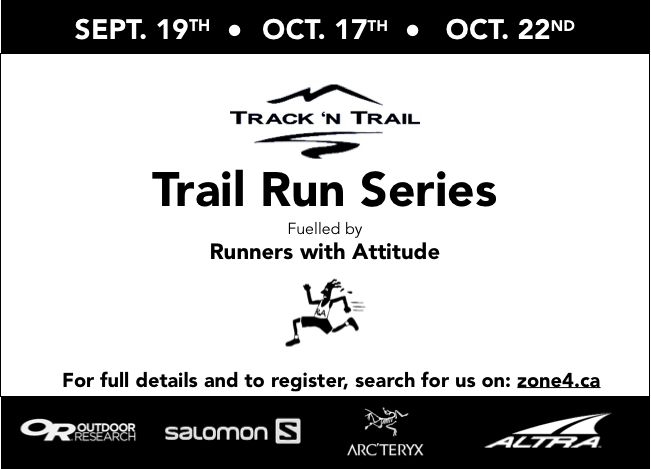 Our Trail Run Series is Back!

Track N Trail's Trail Run Series
Fueled by Runners with Attitude

Please note different start time for October 22nd race.

Tuesday, September 19th, Goldstick (Approx. 5k) 6:30 PM
Tuesday, October 17th, Capilano (Approx. 5k) 6:30 PM (Bring a headlamp!)
Sunday, October 22nd, Strathcona Wilderness Centre Turkey Trot (5k & 10k) 11 AM

Proceeds from the race series will be donated to the Edmonton Food Bank. For those running the entire series and the Turkey Trot, we ask you to please bring a donation of a turkey or canned goods on race day (all donations on October 22nd will be donated to the Strathcona County Food Bank).

*Distances and Locations Subject to Change*

Register for all three races for only $40 and get a free Outdoor Research Cap ($35 value)!
Hat quantities are limited to the first 50 registrants, so register early! You really seemed to dig the shirts we gave away last time, and we think you'll like these hats too.

Chance to win prizes at every race, including prizes from Salomon, Altra, and Arc'teryx. All finishers have an equal chance at winning!
Not sure you can commit to all three dates? You can register for each race individually for $15. Register at zone4.ca
Hosted by Track 'N Trail Ski Club.
Sales, Sales, Sales!

We've broken out the sale tables for footwear and brought up the double bar racks, so come check out our summer clearance while the selection is at it's best.

Some highlights include:
All Hoka One One Footwear at $99, including the standby Stinson ATR and Challenger ATR. These are moving quickly, so come by soon for best selection!
Spring colours in the Arc'teryx Atom LT Hoody for just $199 (down $100!)
Spring colours in the Outdoor Research Foray & Aspire Gore-Tex Jackets, just $199 (down $80)
All Teva Sandals $49 or $59! Save up to $60
All Salomon apparel is on the clearance racks!
If you haven't tried the Hoka shoes, now is definitely the time to do so!

*All sales final. In-stock items only
Vancouver International Mountain Film Festival "Best of Fest" Tour is Back!
Join Us on September 22 & 23rd


At Track 'N Trail, we're pleased to announce that we're bringing the Vancouver International Mountain Film Festival "Best of Fest" Tour to Edmonton on Friday, September 22nd and Saturday, September 23rd. With 2.5 hours and approximately 10 different short films, these eye-popping visuals will leave you breathless and inspired. Please note that both shows will be the same program.
Not stoked enough yet? Check out this awesome trailer and come get your tickets today or order them online!

For those of you who are huge fans of the Best of Banff, you'll know the drill. The show starts at 7:30PM, and the film fest will once again be at the (former) Royal Alberta Museum Theatre, 12845-102 Ave, just off of downtown with free parking (and bike racks). We realize the museum has closed, but we assure you that the theatre venue is still open for these shows.
Tickets are $22 in advance and, if there are tickets remaining, $25 at the door. Get your tickets ASAP!

We'd like to note that while there are some crossover shows between the Best of Banff and Best of Vancouver, since we're the hosts for both, we will not be showing any of the same shows that we played at the Best of Banff this past January.

*WHAT FILMS ARE YOU SHOWING? We should know in the next 10 days, as we finalize our list with the Best of Vancouver folks.

We're pretty excited about this opportunity, so we hope to see you there!

Can't wait? Buy your tickets now!
Guidebooks Galore
Keep in mind that we stock plenty of guidebooks for your climbing and hiking needs. Popular titles in stock at the moment include:
Bow Valley Sport, 2nd edition
Rockies Central, A Climber's Guide to the North
Northern Exposure: Jasper Rock Climbs
Don't Waste Your Time in the Canadian Rockies
Canadian Rockies Trail Guide
Scrambles in the Canadian Rockies, 2nd edition
Sport Climbs in the Canadian Rockies, 7th edition
Just arrived last week: The New David Thompson Corridor Rock Guide Book is in stock at Track N Trail!