Posted on
By Track N Trail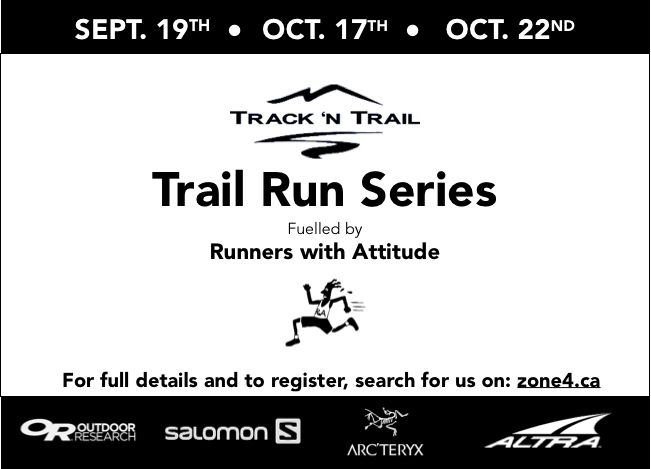 October Happenings
Turkey Trot, Club Night, Reel Rock Film Tour
To Our Loyal Fans and Clients,
We've got a few events coming up that we wanted to keep you updated on, so read on for more details!

Firstly, our trail race series ends this Sunday at Strathcona Wilderness Centre with the Turkey Trot. Join Track N Trail and Runners with Attitude, as we kick off a morning of fun times.

Starting at 11 AM, we'll have 3 races, including a 2.5k kids loop, and a 5 and 10k option for the adults. We'll have some cool prizes and are serving some hot dogs and snacks for the post race lunch.

How can I register? Well, we'd prefer if you can bring a turkey for your entry fee and just show up on race day (the earlier the better, as the race starts at 11 AM), but if you can't make that happen then you can register on zone4.ca until midnight, Saturday October 21st (search Track N Trail). We ask that if you plan on running, you bring some non perishable items for the Food Bank, as they'll be on site collecting for those in need.

What about kids? Kids race free, with the caveat that they bring something for the Food Bank as well.

It's the Turkey Trot. What about costumes? Costumes are always welcome at the Turkey Trot and Best Costume will even win a prize!

Donations will be accepted and all financial proceeds collected for this race will go directly to the Food Bank.

Please join us!
Club Night, Friends Night
Join Us on Monday October 23rd from 6-8 PM


This should be pretty straightforward. We've invited all of the local clubs to attend an evening of seasonal shopping at Track N Trail, from 6-8PM on Monday, October 23rd. We're forbidden from saying more than that at this time, so if you want more details, you'll have to show up or talk to your club friends.

Trust us, if you have your eye on a piece or two, it's worth coming.

*In stock items only. No future orders.*
Edmonton Nordic Ski Swap
November 5, 12-3PM


The Annual Edmonton Nordic Ski Swap is on Sunday, November 5th from 12-3 PM at Goldstick Pavillion. We'll be on hand with some double discount offers, some clear-out ski gear, and our expert knowledge and test board to help you make the right selections for you and your family.

Can't find what you're looking for? We'll have special offers in-store for all Ski Swap Attendees.
Reel Rock 12 Film Tour
Two Shows! Tickets in-store only
at Track N Trail


Finally, we've got your tickets in-store only (no phone or online orders) to the Reel Rock 12 Film Tour. At the Garneau Theatre on 109th St, there are two options for shows this year!

You can attend Friday, November 10th at 7 PM or Sunday, November 12th at 3:30 PM. We hope to see you there!

Trailer is here. Facebook event page is here.